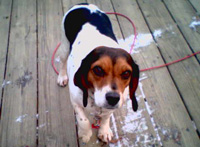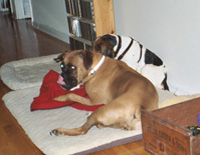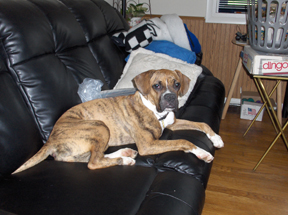 Maude, Cleo and FRR



We had to put my dear old, sweet Beagle mix Molly to sleep late Feb. 2005 due to a kidney failure. Val and I were going to wait to get another dog for awhile. Then we found out that her sister Vicki and husband Tim were going to China for 2-3 years due to his job and they asked us to take care of Cleo(boxer). Shortly after that my realtor was telling a client who happens to rescue dogs about us and said she did have a beagle(Maude). So within a week and a half in August 2005, we had 2 dogs!
Maude was fed holisticly(raw food), and Cleo was a picky eater. Before we got either one of them, I researched the internet on natural dogfood, and store bought dogfood(very scary!), and came across Flint River Ranch. It looked good so I bought some even before we got the dogs. Maude came to us first and loved the food! Then came Cleo with a bag of food which she kind of ate decent... until she tried some of the FRR food. After that we had to mix her food with the FRR just to finish the bag off! Cleo loves it so much we have to watch her so she doesn't go over and eat Maude's food. And of course they thoroughly enjoy FRR snack biscuits and bones:)! Try some for your pets today!


**UPDATE-JULY 2006**

We recently found out Vicki and Tim were moving back early, and of course will get Cleo. So, we found a 7 month old, female, boxer mix named Zoe to replace her! We adopted her from the local humane society and she's a little skinny, but she's eating her FRR dog food like crazy and will fillout just fine soon!